Online 50/50 Lottery
---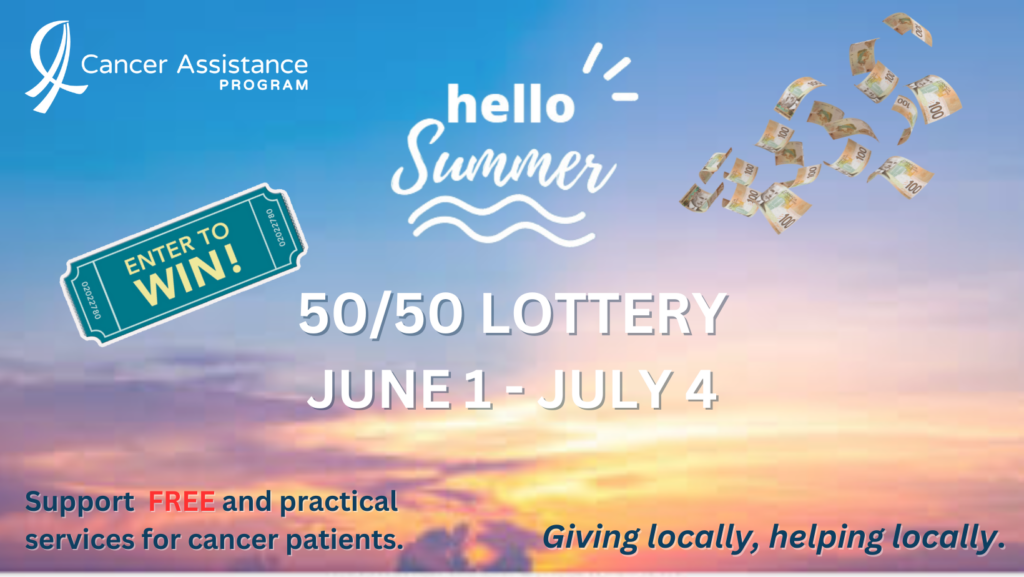 The Cancer Assistance Program (CAP) is holding our Summer online 50/50 lottery fundraiser from
June 1 – July 4, 2023.
The winner will be announced on July 5, 2023. The winner will be contacted to claim their prize.
Your support will assist families right here in our community with FREE services that ease the physical, emotional and economic impact of cancer. Services provided include transportation to and from cancer-related medical appointments, access to parking for appointments taking place at the Juravinski Cancer Centre and Hospital, home health equipment loans, nutritional supplements, personal care items for incontinence, wigs and head coverings, mastectomy products, and practical education through our Cancer Assist Podcast. CAP has been supporting cancer patients and their families for over 29 years with practical and essential services that help cancer patients live at home while receiving treatment. Proceeds will ensure cancer patients and their families continue receiving help when it is needed most.
Thank you for your support!
For questions contact events@cancerassist.ca or call 905.383.9797 ext. 112
License #RAF1298230
Past 50/50 Winners:
Fall 2022: Brenda G. won $4725 with winning ticket #B11543
Summer 2022: Jim B. won $5,700 with winning ticket #C-19554
Spring 2022: Sheila T. won $3,760 with winning ticket #C-1274